NAPS "Spotlight" Employee of the Month
North Attleborough Public Schools (NAPS) has amazing employees who consistently go above and beyond to make a difference in the lives of our students and schools.
The North Attleborough School Committee is committed to recognizing our employees for their many contributions to our district. We invite you to nominate a staff member who you feel is deserving of recognition as a NAPS "Spotlight" Employee of the Month. Nominations will be accepted from staff, students, parents, and community members.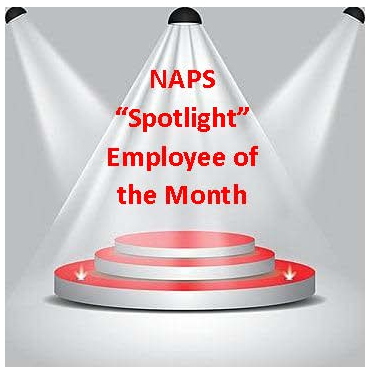 Please nominate a NAPS employee who exemplifies achievements or efforts in one of or more of the following areas:
Makes a difference in the lives of students

Goes above and beyond to make a difference in their role

Displays acts of exceptional kindness

Excels as a team player

Enhances the school community

Positive influence on the school community

Carries out each day with a positive and welcoming attitude and strong work ethic

Demonstrates innovation, leadership and passion for the job

Any action that stands out as exceptional
All employees are eligible to be nominated, including administrators, bus drivers, business office staff, clerical support staff, counselors, nurses, librarians, teachers, custodial, food service employees, information technology employees, instructional assistants, maintenance employees, and more.
All eligible staff members shall only be selected as the "Spotlight Employee of the Month" one time during the school year.
The nomination must be completed by someone other than the nominee (i.e., no self-nominations are eligible for consideration).
Those employees who are selected as Employee of the Month will be recognized as follows:
Be introduced at the School Committee meeting where he/she would receive a NAPS "Spotlight" Employee of the Month certificate.

Highlighted in a short article on naschools.net.

Highlighted in Superintendent Antonucci's Monday Memo.